Combo Admission - General Admission + SummerBurst
Enjoy the best that the Museum has to offer for one low price! Combo admission gives you access to both our 16 indoor exhibits and our SummerBurst outdoor special event.
---
Pricing
Combo tickets for SummerBurst and general admission are $20 per person, for adults and children. Infants under 12 months of age are free.
Combo packages cannot be combined with other admission discount offers. Kohl Children's Museum members receive free admission for both indoor exhibits and SummerBurst activities. If you are eligible for any other admission discounts (including reciprocal and corporate members), combo prices do not apply, and you must purchase tickets at the front desk.
To purchase a membership and receive your savings immediately, click here.
Please note, all reservation tickets are non-refundable, and additional discounts cannot be applied after purchase. Tickets are eligible for free reschedule before August 29.
---
Reserve Your Tickets
The calendar below secures admission for both indoor exhibits and our SummerBurst outdoor event.
Members do not need to reserve admission, and may check-in free at the admissions desk.
Reservations may be done in advance using the calendar below or purchased at the door.
Tickets may be rescheduled at no charge in case of inclement weather.
Gift cards must be redeemed by phone at (847) 832-6900.
---
Before You Visit
Please bring your own face coverings. Per CDC guidelines, masks that cover the nose and mouth are required for all guests age 2 or older when inside the Museum.  Masks are recommended for all non-vaccinated guests age 2 or older in outdoor situations where social distancing cannot be observed.

Health Check: The health and safety of our visitors, staff, and volunteers is our #1 priority. If any of the following are true of your party the morning of your scheduled visit, please do not come to the Museum:
Fever of more than 100.4 F
Coughing, sneezing, chills, runny nose, or difficulty breathing
Exposure to a COVID-19-infected individual within the previous 14 days
If any of these are true, please e-mail us at info@kcmgc.org prior to your session start time to reschedule your visit. Staff and volunteers are required to complete the same health check.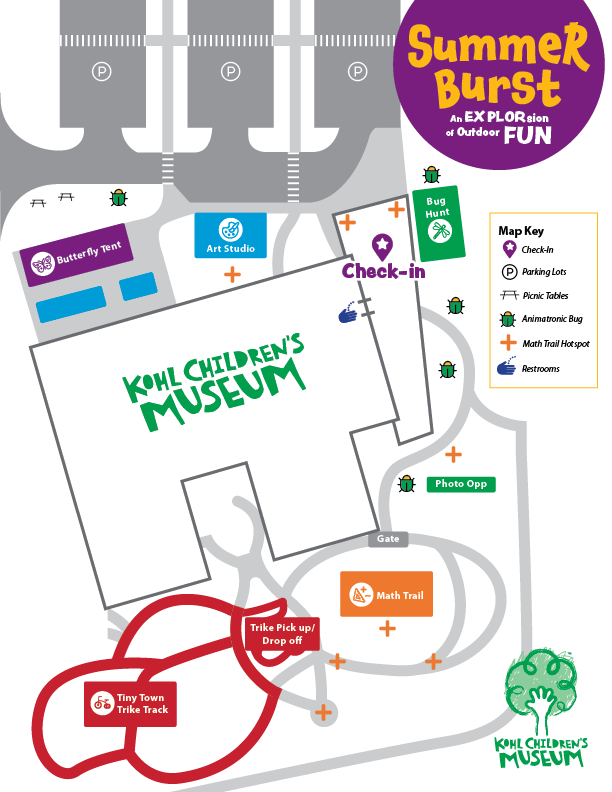 ---
During Your Visit
The Museum café is not currently open for food purchases. Food is not allowed in exhibits area, including the Habitat Park exhibit or any SummerBurst activity areas. We suggest eating prior to or after your visit, or in your private vehicles prior to participating.
We encourage guests to bring bottled water, spillproof beverage mugs, or sippy cups, which are allowed in the exhibits.
Safety Protocols