Visit Us for Kohl Kids Live
"Kohl Kids Live!" sessions are small-group, interactive learning experiences for children aged 3–8. Join us at our Glenview campus for safe, contactless fun limited to 10 participants (including adults and children). Tickets are $14 for the general public and $8 for members. Programs currently runs Tuesday to Saturday from 8 AM – 1 PM. View the calendar below for ticket availability or scroll down to read about our safety protocols.
---
Ticket Prices
Museum members (as of 3/14/20) – $8
Adults and children over 12 months – $14
Discounts available for SNAP (supplemental Nutrition Assistance Program) recipients through the Museums for All program. Proof of eligibility required at check in. Use discount code M4A after you've added your tickets to the cart.
---
Onsite Play and Learning Experience
Kohl Kids Live! presents exclusive scheduled sessions consist of 5 learning activities led by Museum educators that mirror our philosophy of learning through play. All sessions will take place in  our outdoor Habitat Park exhibit, or indoors in case of inclement weather.
Click here for detailed information on these sessions.
View our photo gallery to see what the new, outdoor Kohl Kids LIVE experience looks like.
---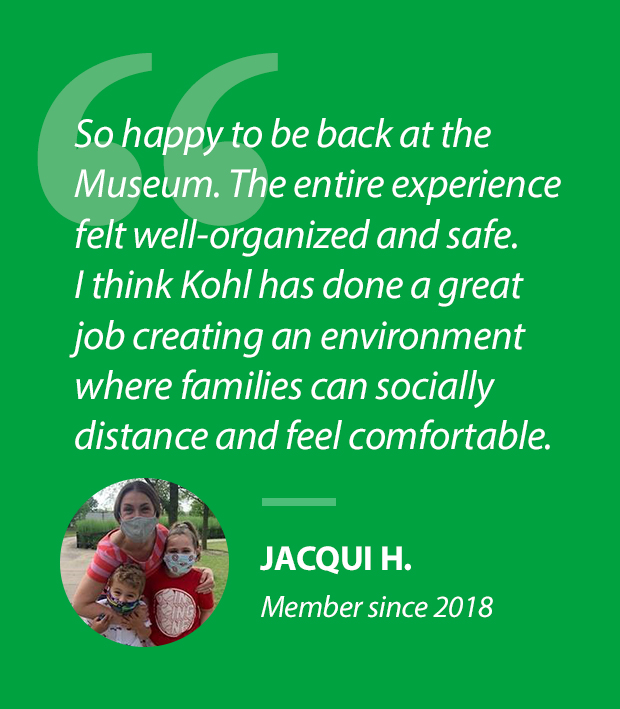 Safety Protocols
Each session is limited to 10 guests to allow social distancing.
Adult supervision is required for all children under the age of 16.
Pre-packaged kits with supplies provided for each child. Shared resources sanitized after each group.
Masks required for all guests over the age of 2 in all areas during participation in the program.
Hand sanitizer stations and social distance reminders are placed throughout the Museum.
A deep clean of the Museum is performed every evening.


---
Ticketing Procedures
Tickets must be reserved in advance, for both members and the general public.
Members who were active as of 3/14/20 receive a 40% discount on tickets, and receive priority registration to reserve tickets for any 14 days in advance.  Reservations open to the general public 7 days in advance.
You will receive barcoded tickets by e-mail with your reservation. Please print them or save the e-mail with the ticket link to show on your phone when you arrive.
Tickets required for each adult and child over 12 months. (Infants under 12 months are free and do not count toward limit.)
There are no discounts for these special event sessions other than the member discount.
Attention Members: You MUST be logged into our system in order to receive your admission discount. Discounts will be applied after you add your tickets to your cart. If you have difficulty accessing your discount, please contact info@kcmgc.org or call our main number at (847) 832-6600.
Please note: Museum exhibits are not yet open for play. Memberships remain "frozen" at this time, and the clock will not begin again until we can re-open the total Museum exhibit experience. All memberships that were active upon our date of closure (3/14/20) will be eligible for discounts on this special Kohl Kids Live! programming.
---
Before You Visit
Please have our e-mailed tickets available when you arrive, either printed or pulled up on your phone.
Please bring your own face coverings. In keeping with Village of Glenview guidelines, masks that cover the nose and mouth will be required for all guests over the age of 2 during this programming.

Health Check: The health and safety of our visitors, staff, and volunteers is our #1 priority. If any of the following are true of your party the morning of your scheduled visit, please do not come to the Museum:
Fever of more than 100.4 F
Coughing, sneezing, chills, runny nose, or difficulty breathing
Exposure to a COVID-19-infected individual within the previous 14 days
If any of these are true, please e-mail us at info@kcmgc.org prior to your session start time to reschedule your visit (subject to availability). Staff and volunteers are required to complete the same health check.
---
Contactless Check-in at Museum
Please arrive promptly to enjoy all we have planned for you. Late arrivals may be added to activities already in session.
To speed up entry, have your tickets ready, either printed or on your phone.
Temperatures of all guests will be taken via contactless forehead thermometer at check-in.
10 minutes before scheduled check-in time, we will begin processing admissions at the Museum entry.

During Your Visit
Please keep a minimum of 6 feet from other guests at all times.
Guests will experience each of 5 sessions with just your group of 10 or fewer while following a one-way path through the Museum.
All staff and volunteers will wear face coverings and will encourage guests to observe social distancing guidelines.
Amenities
The coat room will be available for unsupervised storage; however, lockers will not be accessible. Please plan to keep all valuables with you or secure them in your car.
The Museum café will not be open for food purchases. No food is allowed on the Museum floor.
Drinking fountains will be disabled. We encourage guests to bring bottled water, spillproof beverage mugs, or sippy cups, which will be allowed throughout the Museum.
All restrooms will be restricted to one family at a time with signage to indicate when occupied. Restrooms will be cleaned every 30 minutes.
Enhanced Cleaning Procedures
Our Super Scrub Squad has expanded their already robust cleaning protocols.
During your play session:
Wipe down any touched elements
Disinfect restrooms every 30 minutes
Between each play session:
Wipe down all touchable surfaces
Remove and replace any shared elements
At end of day:
Perform a deep clean on the entire Museum, including disinfecting all reachable surfaces to CDC guidelines
---
Questions?
For additional questions, please visit our FAQ page.
We know many of our guests are eager for safe and engaging learning experiences for their children. The Kohl Kids Live! small group program will continue indefinitely until enhanced Phase 4 guidelines regarding interactive museum exhibits are provided by the Restore Illinois plan.
Thank you for your support and patience as we debut Kohl Kids Live! at The Place Where Awesome Lives!