V.I.P. (Very Important Play) Sessions
Looking for a one-of-a-kind opportunity for play, learning, and family bonding? Imagine getting a section of the Museum completely to yourselves for two hours to explore and create!
Kohl Children's Museum's new V.I.P. sessions let you enjoy private access to the exhibits you love in a 100% safe and clean environment. The Museum has been divided into four packages now on sale, each zone with exclusive access to select exhibits for you and your party only, including private bathrooms assigned only for your group.
October Ticket Prices
Thomas the Tank Engine Package: $200 /

Members $150

(Available Oct. 1)
Young@Art Package: $150 /

Members $100

Main Street Package: $150 /

Members $100

Build It Package: $150 /

Members $100

(Available Oct. 1)
All packages include up to 10 guests in your small group.
Sessions available from 8:30 AM – 5 PM Tuesday thru Sunday with special evening hours Thursday thru Saturday.
Select your package:

1) Thomas the Tank Engine package
(Oct 1, 2020 – Jan 3, 2021)
Be among the only guests to explore our newest special exhibit Thomas & FriendsTM: Explore the Rails! Explore the Island of Sodor's iconic locations: Knapford Station, Sodor Steamworks and many more.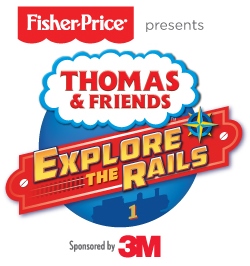 Climb into Thomas' cab and trigger train noises such as braking, whistles and steam.

Fix Percy's wobbly wheel by experimenting to find a working combination of wheels, rods and bolts.

Explore favorite Island of Sodor destinations on an over-sized Thomas Wooden Railway train table.

Load luggage and freight into the coaches of two train cars.

Get Percy moving by loading coal into his coal box and filling his tank with water.

Sell tickets to other visitors taking a ride on the train.
Read more about Thomas & FriendsTM: Explore the Rails!
Thomas & FriendsTM: Explore the Rails! was created by Minnesota Children's Museum.
---

2) Young@Art package
(through Dec 30, 2020)
Be among the only guests to explore our newest special exhibit Framed: Step into ArtTM. Step inside the framework of famous paintings and experience art like never before.
Enjoy a pretend noontime meal in Grant Wood's Dinner for Threshers
Act out a camping trip in John Singer Sargent's Camp at Lake O'Hara
Add "corn husks" to the flower tower in Diego Rivera's Corn Festival
Climb onto a giant rooster in Clementine Hunter's Big Chicken
Instagram favorite: Put your face in Leonardo da Vinci's Mona Lisa
You'll also enjoy a special guided hands-on art activity with a Museum art educator in our Adventures in Art studio, creating a masterpiece you can take home to remember the day. Along the way, check in on our southern painted turtles in Turtle Rock.
Learn more about Framed: Step into ArtTM
Framed: Step into ArtTM was created by Minnesota Children's Museum.
---

3) Main Street (including Whole Foods) package:
Looking to explore one of your familiar favorites? Make a day of it in our child-sized town center on Main Street. Step into role-playing as your group has exclusive run of these 6 exhibits:
---
4) Build It package:
Looking to explore more of your familiar favorites? Give your creativity a whirl as you explore all 6 exhibits in our west wing, including one brand new one! Step into role-playing as your group has exclusive run of these 6 exhibits:
Build It (info coming soon)
Safety Protocols
---
Ticketing Procedures
Tickets must be reserved at least 48 hours in advance. Only one group may book per session.
Members active on or after 3/14/20 receive a $50 discount on sessions. You will receive barcoded tickets by e-mail with your reservation. Please print them or save the e-mail with the ticket link to show on your phone when you arrive.
Each session booked includes up to 10 guests attending. (Infants under 12 months do not count toward limit.)
Attention Members: You MUST be logged into our system in order to receive your admission discount. Discounts will be applied after you add your purchase to your cart. If you have difficulty accessing your discount, please contact info@kcmgc.org or call our main number at (847) 832-6600.
Please note: Memberships remain "frozen" at this time, and the clock will not begin again until we can re-open the total Museum exhibit experience. All memberships that were active on or after our date of closure (3/14/20), including newly-purchased or renewed memberships, will be eligible for discounts on this special V.I.P. Session programming.
---
Before You Visit
Please have our e-mailed tickets available when you arrive, either printed or pulled up on your phone.
Please bring your own face coverings. In keeping with State guidelines, masks that cover the nose and mouth will be required for all guests over the age of 2 during this programming.

Health Check: The health and safety of our visitors, staff, and volunteers is our #1 priority. If any of the following are true of your party the morning of your scheduled visit, please do not come to the Museum:
Fever of more than 100.4 F
Coughing, sneezing, chills, runny nose, or difficulty breathing
Exposure to a COVID-19-infected individual within the previous 14 days
You have within the past 14 days been to states affected by the Chicago Emergency Travel Order
If any of these are true, please e-mail us at info@kcmgc.org prior to your session start time to reschedule your visit (subject to availability). Staff and volunteers are required to complete the same health check.
---
During Your Visit
The Museum café will not be open for food purchases, and food is not allowed in the exhibit areas.
Drinking fountains will be disabled. We encourage guests to bring bottled water, spillproof beverage mugs, or sippy cups, which will be allowed in your selected exhibits.
At least one family restroom will be dedicated exclusively to your group and cleaned every 30 minutes as needed.
---
Questions?
For additional questions, please visit our FAQ page.
We know many of our guests are eager for safe and engaging learning experiences for their children. The Museum is currently offering V.I.P. sessions until enhanced Phase 4 guidelines allowing interactive museum exhibits open to the public are provided by the Restore Illinois plan.
Thank you for your support and patience as we debut V.I.P. Sessions at The Place Where Awesome Lives!