Admission Reservations 2021
Kohl Children's Museum is thrilled to finally be able to re-open our exhibits in the safest possible fashion to encourage young guests to explore, wonder, play, and learn. Come join us for a day of play!
Here's what's new with our re-opening:
---
Pricing
The following prices include access to all indoor exhibits. Prices listed do not include special events or add-on activities like SummerBurst.
Children
(ages 1 – 16)
Members:
FREE
Non-members: $15
Adults
(ages 17 – 54)
Members:
FREE
Non-members: $15
Seniors (ages 55+) And Grandparents:
Members:
FREE
Non-members: $14
Infants (under 12 months):
Members:
FREE
Non-members: Free
To purchase a membership and receive your savings immediately, click here.
See All Currently Available Discounts
Please note, all reservation tickets are non-refundable. Tickets rescheduled with less than 24 hours notice may be subject to reschedule fees.
We are temporarily not accepting other paper certificates, passes, or coupons due to capacity restrictions. All certificates or passes with expiration dates in 2020 or 2021 will be honored for at least 12 months after we can again begin accepting passes.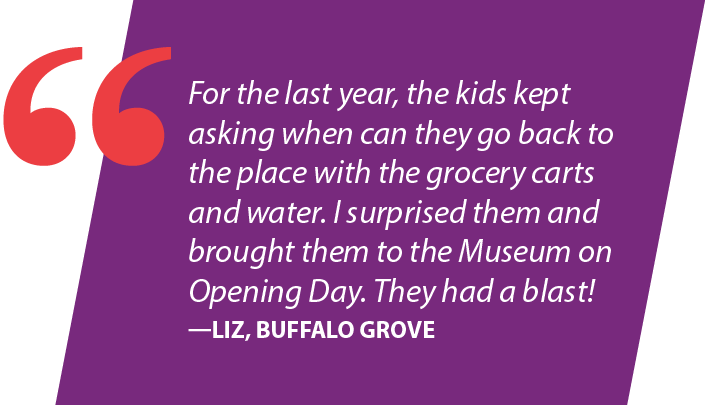 ---
Reserve Your Tickets
This calendar reserves indoor Museum exhibits only. Separate tickets must be purchased for our SummerBurst outdoor special event.
Please select an approximate window for arrival from the calendar below and you will get preferred admission during that time. Windows are for arrival only, and tickets are valid for the full day. We are currently accepting reservations through June 20.
The Museum operates Tuesday through Sunday from 8:30 – 9:30 AM for members only and the general public from 9:30 AM – 5 PM. The last admission purchase window is 4 PM, but you may arrive anytime between 4 and when the Museum closes at 5 PM.
Reserved tickets are non-refundable after purchase, but may be rescheduled based on availability if notified at info@kcmgc.org prior to start time (fees may apply).
Gift cards must be redeemed by phone at (847) 832-6900.
Kohl Children's Museum members: After selecting your time window, you must Sign In in the upper right corner of your sales screen to receive your discount. Discounts are applied AFTER tickets are added to your cart but BEFORE you enter payment info. If you have not yet created your account, please register here. Questions? Contact info@kcmgc.org.
---
Before You Visit
Please bring your own face coverings. In keeping with State guidelines, non-mesh masks that cover the nose and mouth will be required for all guests age 2 or older during this programming.

Health Check: The health and safety of our visitors, staff, and volunteers is our #1 priority. If any of the following are true of your party the morning of your scheduled visit, please do not come to the Museum:
Fever of more than 100.4 F
Coughing, sneezing, chills, runny nose, or difficulty breathing
Exposure to a COVID-19-infected individual within the previous 14 days
If any of these are true, please e-mail us at info@kcmgc.org prior to your session start time to reschedule your visit (subject to availability; rescheduling fees may apply). Staff and volunteers are required to complete the same health check.
---
During Your Visit
The Museum café is not open for food purchases, and food is not allowed in the exhibit areas. We suggest eating prior to or after your visit. Limited seating is available for food brought from home.
We encourage guests to bring bottled water, spillproof beverage mugs, or sippy cups, which are allowed in the exhibits.
---
Safety Protocols