Advance Admission Tickets
Kohl Children's Museum is thrilled to finally be able to re-open our exhibits in the safest possible fashion to encourage young guests to explore, wonder, play, and learn. Come join us for a day of play – and buy tickets (valid the full day) in advance to save!
Here's what's new with our re-opening:
---
Pricing
The following prices include access to all indoor exhibits. Prices listed do not include special events.
Children
(ages 1 – 16)
Members:
FREE
Non-members: $15 ($13 online)
Adults
(ages 17 – 54)
Members:
FREE
Non-members: $15 ($13 online)
Seniors
(ages 65+):
Members:
FREE
Non-members: $14 ($12 online)
Infants (under 12 months):
Members:
FREE
Non-members: Free at all times
To purchase a membership and receive your savings immediately, click here.
Please note, all reservation tickets are non-refundable, and additional discounts cannot be applied after purchase.
See All Currently Available Discounts Please note if you qualify for one of these discounts, you cannot purchase advance tickets. You must purchase tickets at the door.
Any paper certificates, passes, and coupons with expiration dates in 2020 or 2021 will be honored through December 30, 2022. These must be redeemed in person and cannot be reserved online.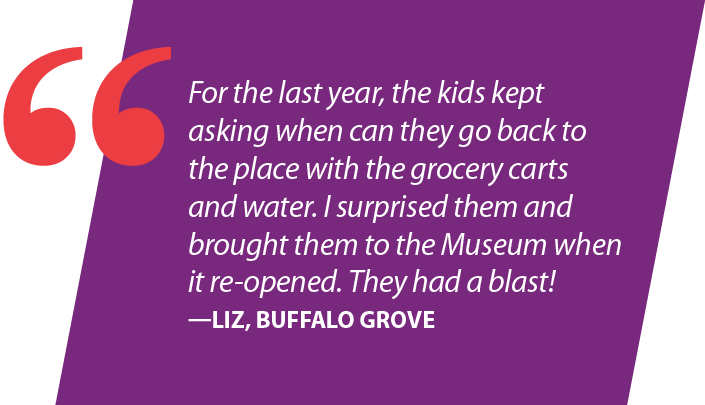 ---
Reserve Your Tickets
Advance reservations are no longer required for admission. If the Museum reaches capacity, there may be a wait for admission. Museum members will be given priority access.
Tickets are valid anytime during operating hours on the date purchased UNLESS NOTED AT PURCHASE.
If Museum is at capacity, there may be a wait for admission, even with advance ticket reservation.
Normal general admission hours are Tuesday through Sunday from 9:30 AM – 5 PM. See our website for special hours.
Reserved tickets are non-refundable after purchase, but may be rescheduled at no charge if notified at info@kcmgc.org on or before the ticket date (fees may apply otherwise).
Gift cards must be redeemed by phone at (847) 832-6900.
---
Before You Visit
The Museum requests a health check on all guests before arriving.

Health Check: The health and safety of our visitors, staff, and volunteers is our #1 priority. If any of the following are true of your party the morning of your scheduled visit, please do not come to the Museum:
Fever of more than 100.4 F
Coughing, sneezing, chills, runny nose, or difficulty breathing
Exposure to a COVID-19-infected individual within the previous 14 days
If any of these are true, please e-mail us at info@kcmgc.org prior to your session start date to reschedule your visit at no charge. Staff and volunteers are required to complete the same health check.
---
During Your Visit
Bean Sprouts Café is currently open for food purchases from 10 AM – 3 PM every day (until 4 PM on weekends). No other outside food is permitted in the dining area. A separate dining area for food brought from home is available in the Museum.
Guests may bring bottled water, sippy cups, or beverage cups with lids into the exhibits areas.
---
Safety Protocols