About Us
Kohl Children's Museum of Greater Chicago offers 17 interactive, hands-on exhibits for children ages birth to 8. All of our exhibits and programs are aligned to the Illinois State Learning Standards and are designed to nurture a love of learning in young children.
Our Vision
Expanding every child's mind through the power of play
Our Mission
Creating learning experiences that spark imagination and curiosity
Core Values
All Museum exhibits and programming are research-based to be challenging, educational, appealing and engaging to young children.
Parents, caregivers and teachers play a crucial role in guiding children toward activities that promote effective learning, while allowing them to direct their own learning experiences.
Complex play experiences involve a blend of physical, emotional, imaginative, cognitive, and social activities.
Trained staff using best practices in early childhood education enhance effective complex play experiences for children.
All Museum facilities, exhibits and programming are accessible by children in the same manner, regardless of differing levels of physical, auditory, visual, social-emotional, or cognitive ability.
All Museum facilities and programming model strong stewardship of the environment.
We embrace the opportunity for those with diverse backgrounds to interact and play together.
We create opportunities for those in the Chicago area whose geographical or economic circumstances preclude direct Museum visitation can still participate through interactive outreach programming.
Informal environments augment the more traditional, formal educational structure.
We create a setting that brings all generations of family together to share the early childhood learning experience with one another.
Diversity Statement
Kohl Children's Museum welcomes everyone by respecting and valuing the unique characteristics and perspectives of each visitor, staff, and community member. We evolve through learning and listening to foster diversity of participation, thought, and experience.
Visitors
Around 300,000 people visit Kohl Children's Museum each year. The Museum has approximately 7,000 member families, who enjoy the purpose-built facility, 17 interactive, hands-on exhibits, and easily accessible location.
Policies
Museum in the News

• 06/12/20: Making Museums Safe Amid a Pandemic: Kohl Children's Museum President & CEO Mike Delfini was interviewed on HLN about re-opening children's museums post-COVID-19.

• 05/20/20: Social distancing in a children's museum? Museum President Mike Delfini offers insight in a Fox-32 news segment and Chicago Tribune article.
• 05/13/20: Chicago Tribune:
Can a preschooler socially distance?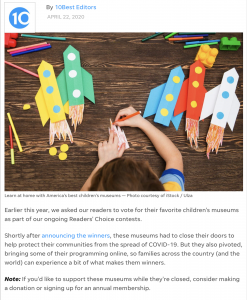 • 4/22/20: 10 Best Children's Museums in America Offer Online Programs
• 2/28/20: Kohl Children's Museum's Pop-Up Museum
• 1/8/20:  5 Coolest Children's Museums in Chicago
---
Museum Press Releases
• 2/28/20: Kohl Children's Museum named to Top 10 Best U.S. Children's Museum List
• 1/28/20: Kohl Children's Pop-Up Museum offers free admission in Waukegan