Kohlights: Select Dates through Dec 29
Kohlights: A Mesmertastic Holiday Lightacular!
Kids take charge in the area's newest holiday light display. It's more than just a walk through the festive holiday lights in Kohl Children's Museum's newest outdoor activity: Kohlights. Children can control and change the lights, so it's a different lightacular experience every time.
Learn while you play with light and color as you create new hues and patterns in this safe and interactive holiday light installation. The show must "glow" on!
Enjoy the full lightacular experience, Dec 17 – 23 and 26 – 29.
---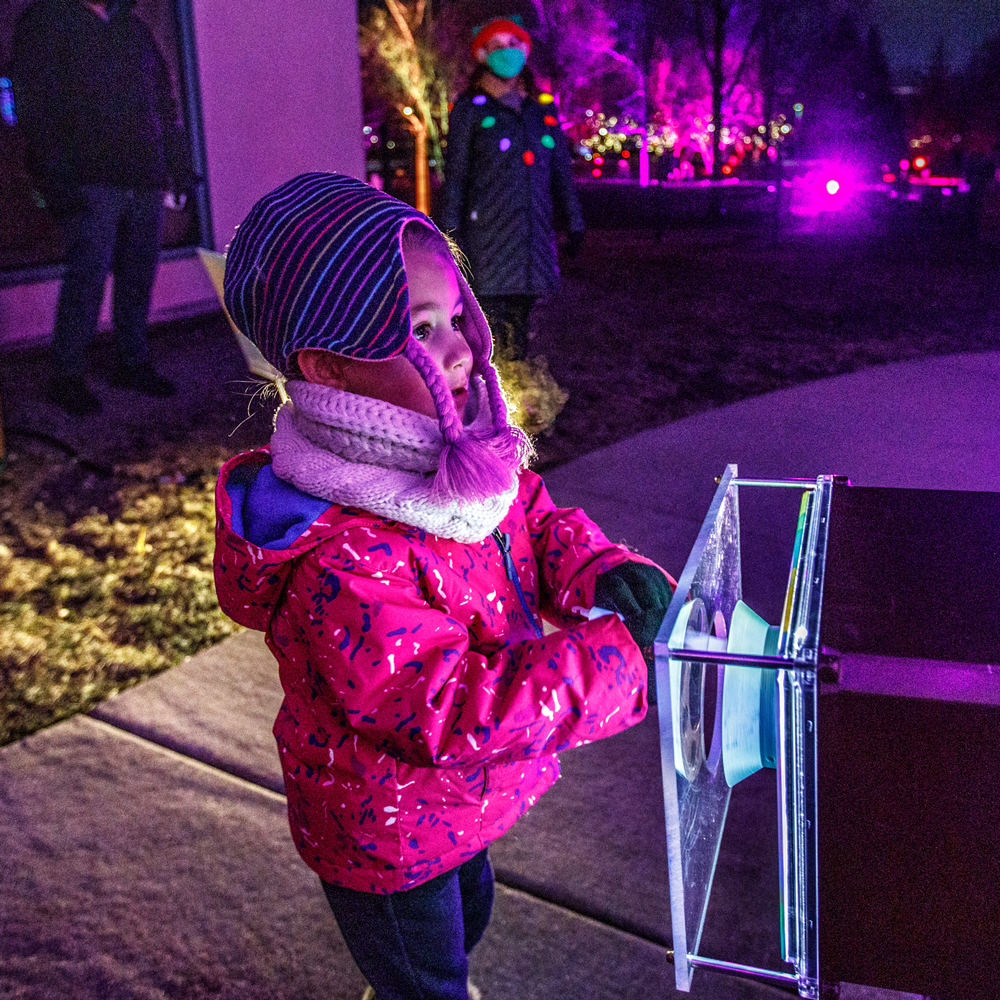 Pricing
Kohlights tickets: $20/person, $15/members
Tickets required for both adults and children for entry. Infants under 12 months of age are free and do not require tickets.
Event will go on rain, snow or dry weather. Tickets are non-refundable unless the Kohlights experience is unable to operate due to electrical, public health, or winter weather emergency issues. Tickets may be rescheduled at no charge based upon availability if contacted by the date on the ticket.
Tickets include the outdoor light show only; indoor exhibits will be closed while Kohlights operates.
Limited discounts available for families with EBT cards through the Museum's access and inclusion programming. E-mail info@kcmgc.org for information.
Kohl Children's Museum members receive a $5 discount on all tickets purchased. You must Sign In in the upper right corner of our sales screen after you select your tickets. Discounts will be applied AFTER tickets are added to cart but BEFORE credit card information is entered.
"My kids have been cooped up and it is so great to get them outside jumping around and burning energy. They are having so much fun."
We traveled from the western suburbs to see this – so worth it. Loved it!"
Safety First
100% outdoors presentation (indoor restrooms and dining available)
All sessions are limited timed 30-minute window entry to encourage social distancing
Please arrive during your selected entry window. The complete trail will take approximately 45-60 minutes to complete.
Thank you for having this light festival – so grateful for it."
Sample Activity Stations
Rainbow Arbor: Children turn a color wheel that will change lights on trees in the park's courtyard along the color spectrum.
Flurry Field: A grove of trees are bedecked with brilliant lights, and children can look through mounted diffraction lenses that manipulate the lights.
Rainbow Caterpillar: Another color wheel allows children to propel patterns of lights through winding fixtures in the park's Sensory Garden, mimicking a caterpillar's movement.
Prism Promenade: A short walk along a rainbow path of colors shows children the color spectrum.
Prism Playframe: Children can select colors patterns to light up a climbing structure.
Festive Firs: A semi-circle of pine trees becomes a winter discotheque with dancing lights for children to chase.
Color Team Trees: Children work together to explore how primary colors blend to become secondary and tertiary colors by lighting up a small grove of trees.
Tinsel Tiny Town: Pulling levers lights up the buildings of the Museum's Tiny Town, transforming it into a Christmas village.
Twinkle Train: Families have the choice of walking through one section of the trail or riding in holiday style on a trackless kiddie train.
Tunnel of Shadows: Children can experiment with opacity and colored lights along with some beloved holiday characters.
---
Food
Watch for information about food options (including pre-arranged meals and hot cocoa) offered by our new cafe provider, Bean Sprouts!
---
Kohl Children's Museum would like to thank the sponsors that have made Kohlights possible:
Limelight Sponsors


Moonlight Sponsors

Starlight Sponsors


---
Support for Kohlights
Kohlights is part of our continued effort to provide safe spaces for children to imagine, learn, and thrive during the pandemic. We kindly ask you to support campaigns like Kohlights, giving much needed financial support to the Museum. Money raised through the campaign goes directly to where it is needed most: day-to-day operations, expanded virtual field trips, and new programs like Kohlights.