Vote for us!
We are on the list of USA Today's 10 Best Children's Museums in the nation! But we need your vote to be #1. So please be awesome and take a moment to vote for us!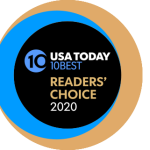 Kohl Children's Museum has been nominated by USA TODAY as one of the Top 20 Children's Museums in the nation! We are honored that nationally-respected journalists and editors hand-picked the Museum to be one of 20 nominees for the 2020 USAToday/10Best Readers' Choice award in the Best Children's Museum category. They recognized the quality of our 17 hands-on exhibits, including our emphasis on art, our unique outdoor Habitat Park, and our robust focus on early childhood educational programming.
You can vote up to once per day on every device through Monday, February 17 to help us claim the title of top children's museum in the nation. The winner, as determined by your votes, will be announced on Friday, February 28!