Membership
Does your family love the Museum? Consider purchasing a membership which will let you bring them as your guests for free!
Memberships also make great gifts. Purchase a gift membership for someone you love, and they can start visiting the Museum immediately.
We offer the following primary levels of individual membership:
Please note: all memberships are non-transferable and non-refundable.
Benefits
More than being a great value, all membership levels also offer great benefits like:
Free admission
Member-only hours every Monday-Saturday 9 a.m. to 9:30 a.m.
Expedited admission through the Member Express line
Virtual membership cards you can download to your phone
Discounts on birthday parties and facility rentals
Members-only evenings or Sunday mornings five times a year
10% discount on every meal purchased at Così® Café at Kohl Children's Museum
Membership also delivers discounts at many local retailers and restaurants, including some right around the corner at the Glen Town Center. Click here for the full list of retailers and discounts.

How to access your new Kohl Children's Museum eMembership Card! 
First, call (847) 832-6600 or stop by the front desk to get your membership number. Then, follow these easy steps to download and activate the free app!
1)
free eMembership Card app
available for iOS and Android, from iTunes and Google Play
2) Choose "Kohl Children's Museum"
3) Select "Find My Membership Card"
4) Enter your last name and Membership#(you may need to delete hyphen)
5) View all the benefits of your membership on the app!
Corporate Membership
Corporate membership is a great way to show your employees how you value and promote work/life balance. We will help you find the corporate membership package that fits your employees best and showcase your encouragement for them to spend quality, active, creative play-time with their families in a vibrant, educational environment.
Contact us at (847) 832-6914 to learn more about the exciting opportunities that await your valued workforce with corporate membership.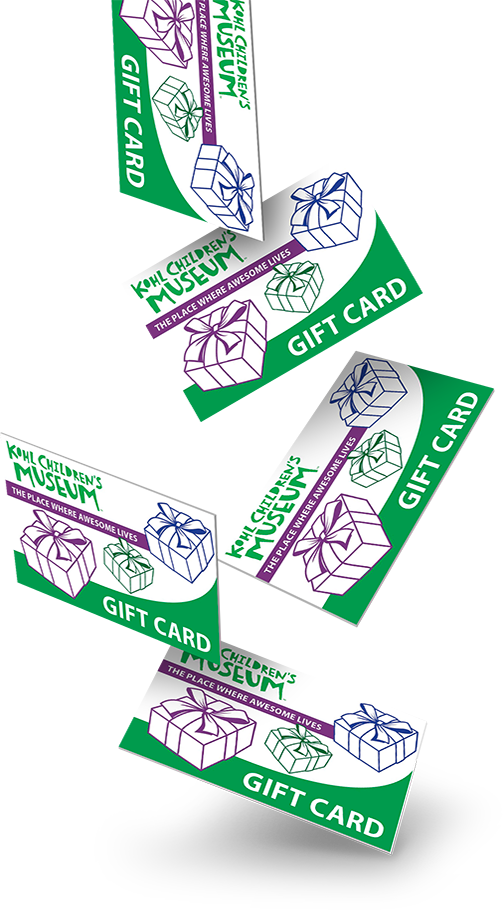 Gift Cards
Check an entire family off your shopping list!
If you're searching for the perfect gifts for families with young children, look no further than Kohl Children's Museum! Purchase tickets, a family day pass, a membership, or an entire birthday party — let us help you to create your custom Kohl Children's Museum gift!
Call (847) 832-6900 for more information!
Birthdays
Family Reunions
Employee Appreciation
Teacher's Gifts
Holiday Gifts
Grandparents
Siblings
Special Occasions
Donate a School Field Trip
Please note, we are currently unable to sell gift cards online. You may purchase a gift membership for friends or family, which will begin immediately, using the membership purchase links above.