Kohlights
A Mesmertastic Holiday Lightacular!
Kids take charge in the area's newest holiday light display. It's more than just a walk through the festive holiday lights in Kohl Children's Museum's newest outdoor activity: Kohlights. Using glow stick learning wands, children can control and change the lights, so it's a different lightacular experience every time.
Learn while you play with light and color as you create new hues and patterns in this safe and interactive holiday light installation. The show must "glow" on!
Enjoy the full lightacular experience, Dec 11 – 13, 18 – 23, 26 – 31, and Jan 2 – 3. Preview evenings Dec 4 -6.
---
Pricing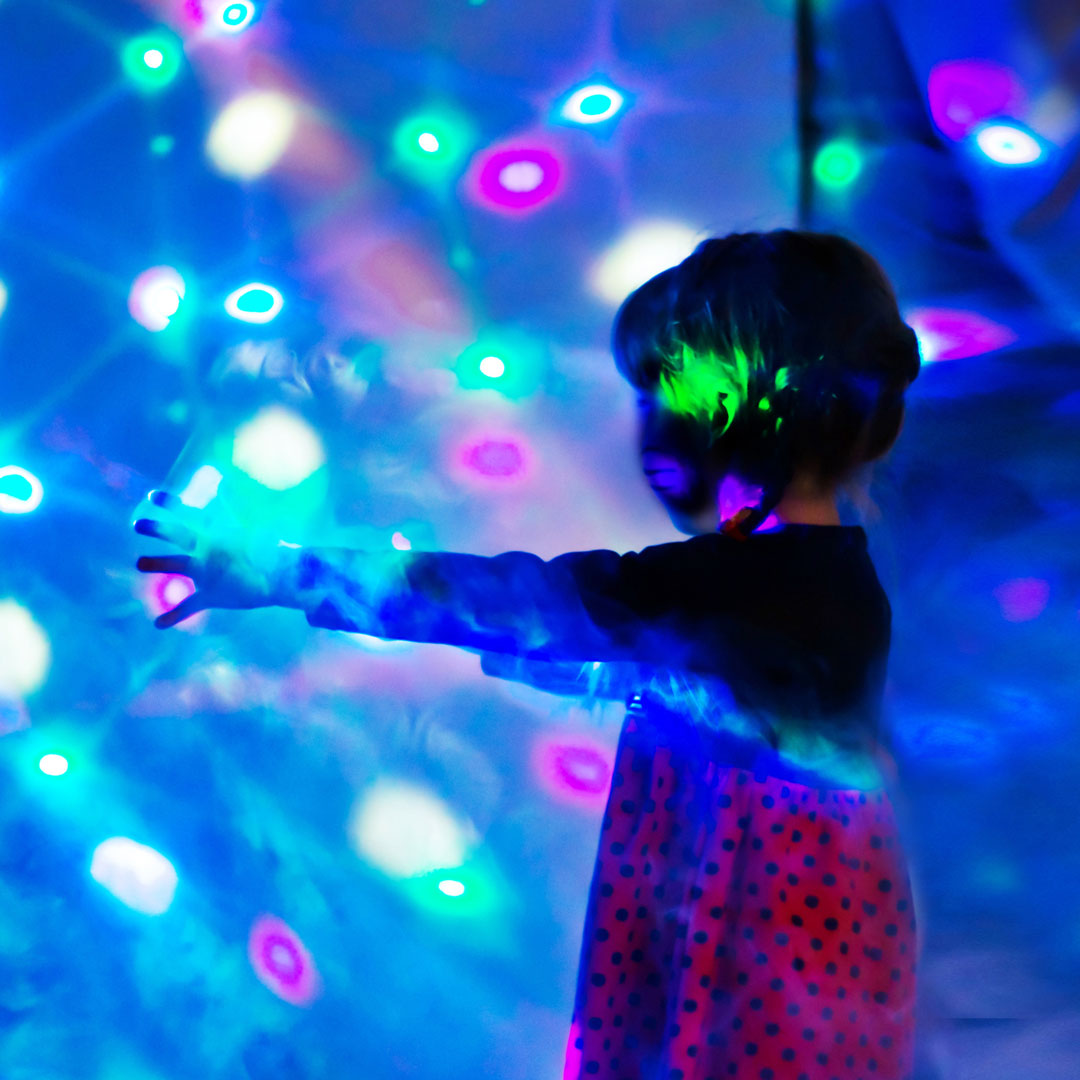 Kohlights tickets: $25/person 
Kohlights preview tickets: $22/person
Tickets required for adults and children. Infants under 12 months of age are free and do not require tickets.
Kohl Children's Museum members receive a $5 discount on all tickets purchased. You must Sign In in the upper right corner of our sales screen after you select your tickets. Discounts will be applied AFTER tickets are added to cart but BEFORE credit card information is entered.
Safety First
Kohlights is compliant with Tier 3 mitigations currently in effect in Illinois.
100% outdoors presentation.
All sessions are limited timed entry for ample social distancing between individual families
All activity stations have "no-touch" activation
Frequent sanitizing of any touchable surfaces
Please arrive during your selected entry window to assist with safety efforts. The complete trail will take approximately 30 minutes to complete.
No-Touch Activity Stations
All activities controlled through individual glow sticks provided at check-in.
Pixel Play Meadow: Project your image in lights across the grass.
Rainbow Arbor: Spin a crank to cascade lights through the color wheel.
Color Play Trees: Push buttons to project colored lights on trees.
Rainbow Caterpillar: Send patterns of colors winding up the hills.
Color Walk: Follow moving blocks of color on a vibrant pathway.
Lighted Art Installation: Make your glow stick part of a light-up mosaic.
Support for Kohlights
Kohlights is part of our continued effort to provide safe spaces for children to imagine, learn, and thrive during the pandemic. We kindly ask you to support campaigns like Kohlights, giving much needed financial support to the Museum. Money raised through the campaign goes directly to where it is needed most: day-to-day operations, expanded virtual field trips, and new programs like Kohlights.
Tickets for this event are non-refundable, except in cases of weather emergencies or situations in which the Kohlights experience is unable to operate.
Tickets may be rescheduled based on availability, or may be transferred to other parties. Please contact info@kcmgc.org for reschedule availability.