Story Time
Kids Reading for Kids
Welcome to All Together Story Time. Where kids read childhood classics for other kids. We're always making new stories so please send us your favorite with your child reading it.
Goodnight Moon, by Margaret Wise Brown, Pictures by Clement Hurd
---
Hear our educators read your favorite stories aloud.

Car Goes Far, by Michael Garland

Iggy Peck Architect, by Andrea Beaty, illustrated by David Roberts

I Am Enough, by Grace Byers

Round is a Tortilla, A Book of Shapes by Roseanne Thong, Illustrated by John Parra

City Shapes, by Diana Murray

Think Big, by Liz Garton Scanlon & Vanessa Brantley Newton

Sea Shapes, by Suse MacDonald

Sky Color, by Peter H. Reynolds

Where the Wild Things Are, by Maurice Sendack

Bounce, by Doreen Cronin & Scott Menchin

If I Built a House, by Chris Van Dusen

Green, by Laura Vaccaro Seeger

Who Sank the Boat by Pamela Allen
To download a PDF for a related activity click here.

Rain, by Manya Stojic

Julian is a Mermaid, by Jessica Love

The Color Monster, by Anna Llenas

Go, Go, Grapes!: A Fruit Chant, by April Pulley Sayre
To download a PDF for a related activity click here.

More or Less, by Stuart J. Murphy

If You Give a Mouse a Cookie, by Laura Numeroff

Not Norman: A Goldfish Story, by Kelly Bennett

Balancing Act, by Ellen Walsh

Just a Little Bit, by Ann Tompert
To download a PDF for a related activity click here.

Froggy Gets Dressed, by Jonathan London

Meet Einstein, by Mariela Kleiner

Blue Whales Blue, by Peter Carnavas

Perfect Square, by Michael Hall

A Bear and His Boy by Sean Bryan

Mouse Shapes by Ellen Walsh

A Pair of Socks by Stuart J. Murphy

Pattern Fish by Trudy Harris

The Dot, by Peter H. Reynolds

The Duckling gets a Cookie? By Mo Willems

The Long and Short of It, by Cheryl Nathan and Lisa McCourt

We're Going on a Bear Hunt, by Michael Rosen and Helen Oxenbury

Froggy Plays Soccer by Jonathan London
To download a PDF for a related activity click here.

Don't Let the Pigeon Drive the Bus, by Mo Willems
Check back for new stories to be posted soon!
To view activity videos and to download PDFs of activities you can do at home, visit our Home Zone.
VIP Readers
We've invited local celebrities, including elected officials, first responders, children's authors, and even young Museum guests to read their favorite stories. Want to participate? Send your videos to playKCM@gmail.com
---

Say Something by Peter H. Reynolds. Read along with our Director of Education and learn how powerful your voice is and the importance to say something.
---

How Do Dinosaurs Say Good Night? by Jane Yolen & Mark Teague, read aloud by Megan Dionesotes, Glenview Public Safety Dispatch
---

Corduroy's Birthday, by Don Freeman & Lisa McCue, read by Ronan
---

Being Small (Isn't So Bad After All), by Lori Orlinsky, Children's Book Author
---
Tiempo de Cuentos
Escuchar a nuestros educadores leer historias en voz alta

Nadie Como Tú, by Linda Kranz, Translation by Teresa Mlawer

Oso pardo, oso pardo, ¿qué ves ahí? by Author Bill Martin Jr., Illustrator Eric Carle, and translator Teresa Mlawer

Buenas Noches Luna, by Margaret Wise Brown

Tito Puente, by Monica Brown

tejedora del arcoiris, by Linda Elovitz Marshall

Los Tres Cerditos, retold by Patricia Seibert read in Spanish

Gilberto Y El Viento, by Marie Hall Ets

¡Mézclalo Bien! by Hervé Tullet
---

Recursos en español 
Para mas informacion contacte Natalia Ruiz 
Conéctate con nosotros por Facebook, Twitter, YouTube, Pinterest e Instagram.
---
Stories to Share


Want to understand why children want to read and re-read the same book over and over again? This article does a good job explaining why reading the same book multiple times is actually good for early literacy and child development in general.
---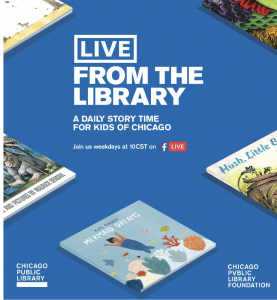 Chicago Public Library is launching Live From the Library: A Daily Story Time for Kids of Chicago. This program will feature librarians and Chicago notables reading their favorite children's books. Join story time weekdays at 10AM CST on Facebook Live. Visit facebook.com/chipublib to learn more about Live From the Library.
---
Read-aloud: The Snowy Day
Ezra Jack Keats Foundation
---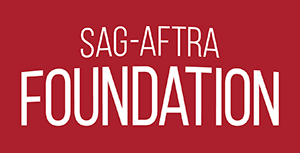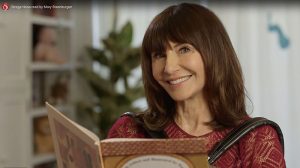 Hear celebrities read stories!
SAG/AFTRA Foundation
---

Mo Willems Lunch Doodle, Episode 1
---
#OPERATIONSTORYTIME
Your favorite authors host story time online
---
Story Time from Space!
Watch astronauts on the Space Station read children's books and perform science demonstrations!
www.spacestationexplorers.org
---
Home Zone
Want to take the Museum experience home with you? Visit Home Zone for stories, activities and experiments that you can easily replicate at home with your families.
---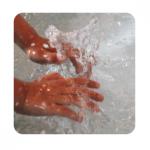 Our Parent/Caregiver Resource, is a curated selection of child-friendly, helpful resources specifically related to the Coronavirus.
---
In trying times like these, we think of the wise quote from the late Mr. Fred Rogers' mother: in times of anxiety, "Look for the Helpers." Since we have had to temporarily close our doors to the public, we more than ever need your financial support to keep providing online resources for home during this crisis, however long the need, and to ensure a healthy, happy place for play and learning when we are able to re-open. Please donate today and be a Helper to keep Kohl Children's Museum a vibrant part of the early childhood community.
Donate to the Museum